Welcome to our comprehensive guide, "How To Decorate A Towel Rack"! A towel rack might seem like A purely functional feature in your bathroom—Its main purpose is to dry your towels. With a pinch of style And A dash of your personal flair, It can transform from A simple utility into an artistic centerpiece. In this riveting article, we aim to inspire you with ingenious ways to convert your towel shelf into an integral part of your bathroom decor, Adding charm and character to your sanctuary. We'll cover A broad spectrum of styles, from rustic And vintage to modern and chic, along with practical tips on incorporating different materials and accessories. Whether You're starting from Scratch or Looking to revamp your existing setup, This guide will serve as your beacon. Ready to reimagine your bathroom's aesthetic? Let's dive in And explore the captivating world of towel rack decorate!
What Can You Put On A Towel Rack?
It can be used for more than just hanging towels. You can hang decorative items such as artificial plants, dream catchers, or string lights to add personality. Hanging baskets or storage caddies can offer additional space for toiletries. For a spa-like feel, drape a plush bathrobe or hang eucalyptus branches. If your towel shelf is in the kitchen, It can be used to hang pots, Utensils, Or decorative tea towels. Be creative! Remember, The goal is to balance functionality And aesthetics while making sure the items you put on the rack are suitable for the environment they're in.
How Do You Make Towels Look Nice On A Rack?
Making towels look nice on a rack is all about the fold and arrangement. For a spa-like vibe, try the tri-fold method: fold the towel in thirds lengthwise and then fold it in half. Drape the folded towel over the rack with the folded edge on top for a neat look. Color is also important. Consider towels in hues that complement your bathroom decor. Alternatively, you can roll your towels tightly for a sleek, modern look and stack them vertically. Adding a small sprig of fresh lavender or eucalyptus can give a luxurious touch. Experiment with these tips to find what works best for your space.
Importance Of Decorating A Towel Rack
Towel Shelves, often overlooked, play a vital role in enhancing your bathroom's aesthetics. A well-decorate towel rack not only showcases your personal style but also gives your bathroom a tidy and organized look. They act as functional decor pieces, increasing the visual appeal while providing a convenient place to store and dry towels. By infusing creativity into decorating your towel shelf, you can elevate the atmosphere of your bathroom, making it more inviting and pleasant.
Choose The Right Towel Shelf
Choosing the right towel Shelf sets the foundation for the decorative process. A rack should not only match the bathroom's functionality but should also harmonize with its existing decor. Different styles, materials, and designs cater to varying tastes – from modern minimalist bars to rustic ladder-style racks. Consider factors like the size of your bathroom, the number of users, and your storage needs when choosing your towel shelf.
Consider The Bathroom Style And Theme
Before embarking on the decorating process, it's important to assess your bathroom's current style and theme. A successful towel Shelf decoration should augment the existing aesthetic, not clash with it. Whether your bathroom gives off a tranquil, spa-like vibe, or it's a vibrant, child-friendly space, your cloth shelf should reflect this. Choosing decorative elements that echo your bathroom's theme — rustic charms for a country style, maritime accents for a beach theme, or glossy metallics for a modern bathroom — ensures visual cohesion and balance.
Fold Towels Neatly For An Organized Look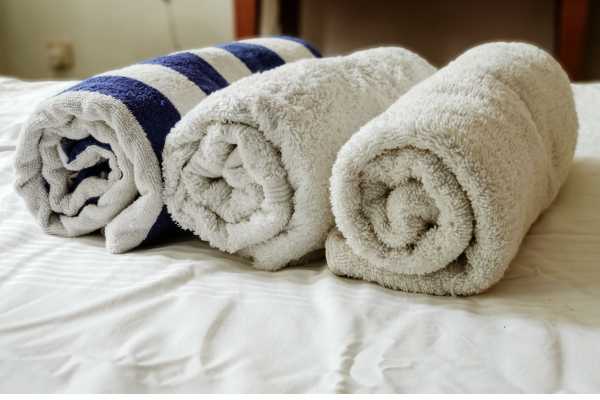 Creating an organized and tidy look on your towel Shelf starts with well-folded towels. Uniformly folded or neatly rolled towels not only save space but also lend A sophisticated, hotel-like atmosphere to your bathroom. Paying Attention to these small details can have A profound impact on your bathroom's overall aesthetic. Experiment with different folding techniques — you might prefer A traditional tri-fold, Or find that A roll suits your rack and towel type better. Either way, an orderly display enhances the functionality and visual charm of your towel shelf.
Group Towels By Color Or Size For A Cohesive Display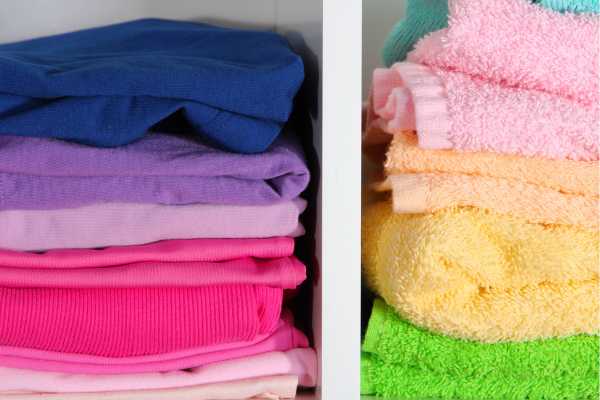 One simple yet effective technique in cloth rack decoration is grouping towels by color or size. This strategy imparts a visually appealing, harmonious display that infuses an extra layer of design into the practicality of your bathroom. Consider a gradient of towels, arranged from lightest to darkest, or by their size from largest to smallest. This introduces a pleasing pattern and creates visual interest, drawing the eye and making your towel shelf a standout feature of your bathroom decor.
Incorporate Decorative Hooks Or Knobs For A Personalized Touch
Adding decorative hooks or knobs can inject a distinctive and personal flair to your towel shelf. These minor details serve a dual purpose. Not only do they offer an additional functional element to your rack, but they also present a stylistic opportunity to reflect your personality in your bathroom decor. Whether it's vintage-style hooks for a touch of nostalgia, crystal knobs for a dash of elegance, or simple geometric knobs for a modern minimalist look, the right choice can dramatically alter the look and feel of your cloth rack.
Hang Artwork Or Framed Prints Near The Towel Rack
Artwork or framed prints near the cloth rack serves two purposes. Firstly, they add visual interest and personality to your bathroom. Choose pieces that align with your style and complement the existing decor. Consider abstract art for a modern and minimalistic vibe, or opt for nature-inspired prints to create a calming ambiance.
Secondly, hanging artwork near the cloth shelf creates a focal point in the room. This draws attention to the area and distracts from the practical nature of the towel shelf. Choose pieces that are appropriately sized and positioned to create a balanced composition.
Whether it's a stunning painting, a series of framed photographs, or a collection of prints, hanging artwork or framed prints near the cloth rack adds a touch of sophistication and elevates your bathroom's overall design. It's a simple and effective way to transform an ordinary cloth shelf into a captivating feature.
Integrate Plants Or Flowers To Bring A Touch Of Nature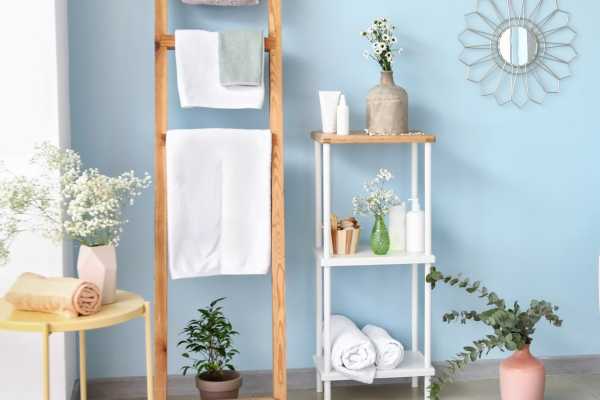 Plants And flowers have A transformative effect, Instantly adding A touch of nature And freshness to any space. By placing them near your cloth rack, You bring life and color to an often overlooked area. Choose plants that thrive in humid environments, Such as ferns or peace lilies, and position them strategically for maximum impact.
Plants also offer health benefits they help purify the air by removing toxins And releasing oxygen, Creating a healthier atmosphere in your bathroom. This natural air filtration system is A bonus to the visual beauty they provide. Whether you opt for A small potted plant, A hanging planter, Or a vase with fresh flowers, integrating plants or flowers near your cloth shelf brings a touch of nature that can transform your bathroom into a calming sanctuary. Embrace the beauty of nature and enjoy the serenity it brings to your daily routine.
The Final Thought
Decorate A towel rack can be A fun and easy way to add some personality to your bathroom. Whether you choose to use colorful towels, Add some greenery, Or hang some artwork, there are plenty of options for making your towel shelf stand out. Remember to consider the overall style of your bathroom and choose decorations that complement it. Don't be afraid to get creative and try new things – after all, towel racks are versatile pieces that can handle a range of decorations! So go ahead And give your towel shelf the attention It deserves – you might just be surprised at how much of A difference It can make in your bathroom's overall look And feel.