Hanging A bathroom mirror may seem like A simple task, But It requires precision And attention to detail. A well-placed mirror can not only make your bathroom look larger And brighter but also enhance its overall aesthetic appeal. Whether you're renovating your old bathroom or simply want to upgrade the existing one, Learning how to hang A bathroom mirror is easy with the right tools And techniques.
In this article, We'll walk you through step-by-step instructions on how to hang A bathroom mirror without damaging the Wall or breaking the glass. From choosing the right location for your mirror to selecting the appropriate hardware, We've got you covered. So let's get started!
How Should You Hang A Bathroom Mirror?
To hang a bathroom mirror, first measure and mark the desired placement on the wall. Locate studs or use wall anchors for stability. Attach mounting brackets or hooks to the mirror, following the manufacturer's instructions. Install wall anchors if necessary, then mount the mirror and ensure it is level. Securely tighten all screws and clean the bathroom mirror surface.
How Do You Hang A Bathroom Mirror Without Hooks?
To hang a bathroom mirror without hooks, you can use adhesive mounting tapes or strips specifically designed for mirrors. Start by cleaning the wall surface and the back of the mirror to ensure good adhesion. Cut the adhesive tapes or strips to the desired length And attach them to the back of the mirror. Press firmly to ensure a strong bond. Then, remove the protective backing from the adhesive and carefully place the mirror on the wall, pressing firmly to secure it. Make sure to follow the manufacturer's instructions and weight limitations for the adhesive products used.
How Do You Hang A Frameless Mirror?
Hanging a frameless mirror requires a slightly different approach. Firstly, gather the necessary supplies, including mirror clips or brackets designed for frameless mirrors. Measure and mark the desired placement on the wall, ensuring it is level. Install the clips or brackets on the wall according to the manufacturer's instructions, Making sure they are evenly spaced. Carefully lift the glass And align It with the clips or brackets, Gently lowering It into place. Apply pressure evenly to secure the glass. Verify that the mirror is level and make any necessary adjustments. Finally, tighten the screws or fasteners to ensure the mirror is securely attached to the wall.
Determining The Mirror's Position
When it comes to hanging a bathroom mirror, determining its position is crucial for achieving the perfect look and functionality. Start by considering the height at which You Want the glass to be placed. The general rule is to position It at eye level, But you can adjust It slightly higher or lower depending on personal preference And the height of the users. Additionally, Take into account the width of the vanity or sink below the glass. Aim for A balanced and proportional placement, Ensuring that the glass covers the area you need while leaving enough space for other elements like lighting fixtures.
How To Find And Mark The Center Of The Wall
Hanging a bathroom mirror, and finding and marking the center of the wall is an important step to ensure proper placement. To begin, Measure the width of the wall And divide It in half to locate the center point. Use A measuring tape and make small marks on the wall to indicate the center. Next, Measure the width of the glass and divide It in half to find its center point. Align the mirror's center point with the center mark on the wall. This will ensure that the glass is perfectly centered and creates A visually appealing look in your bathroom.
Consider Height Placement
The goal is to position the mirror at A height that ensures both functionality and visual appeal. A good rule of thumb is to hang the glass at eye level, With the center of the glass falling between 60 to 65 inches (152 to 165 cm) from the floor. It's crucial to take into account the height of the users. Adjusting the mirror's height based on the tallest And shortest individuals using the bathroom will ensure that everyone can comfortably use the glass. By carefully considering the height placement, You can enhance the overall experience and accessibility of your bathroom glass.
Preparation Of Wall
Before hanging A bathroom mirror, it's essential to properly prepare the wall to ensure a secure installation. One crucial step in wall preparation is checking for studs. Studs are vertical wooden beams behind the drywall that provide a sturdy anchor for hanging heavy objects. Using a stud finder, locate the studs on the wall where you plan to hang the glass and mark their positions. If the studs don't align with your desired hanging points, Or if you can't find any studs, You'll need to use wall anchors. Wall anchors distribute the weight of the mirror across a larger area, ensuring stability. Following these wall preparation steps will help you hang your bathroom mirror with confidence.
Check The Wall For Studs
Check the wall for studs. Studs are vertical wooden or metal beams within the wall that provide structural support. By locating And anchoring the glass to these studs, you ensure A secure and stable installation. To find the studs, you can use A stud finder or tap on the wall to listen for a solid sound. Once you've identified the studs, mark their positions and align your glass accordingly. This simple step will prevent any accidents or damage and give you peace of mind knowing that your glass is securely mounted.
Use An Anchor If No Stud Is Available
Anchors are small devices that allow you to securely hang objects on walls without studs. There are several types of anchors available, Including plastic screw anchors and toggle bolts, Which can hold up to 50 pounds or more. To use an anchor, Drill A hole in the wall where you want your glass to hang And insert the anchor into the hole. Then screw your mirror's mounting hardware into the anchor instead of directly into A stud.
Safety Tips While Drilling
First And foremost, Make sure you have the right Tools for the job. This includes A drill with the appropriate drill bit, screws, anchors (if needed), And A level. It's also important to wear protective gear such as goggles and gloves while drilling.
Before you start drilling, locate any pipes or wires behind the wall where you'll be drilling. You don't want to accidentally hit one of these with your drill as It could cause damage or even injury. Use a stud finder or consult your home's blueprints to find out where these obstacles are located.
Choosing The Right Hardware For Your Mirror's Weight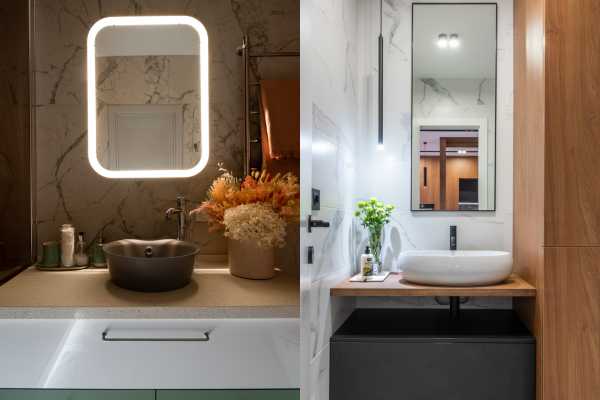 The weight of your mirror will determine the type of hardware that you need to use. If you do not choose the appropriate hardware, you run the risk of your glass falling and causing damage or injury. It is important to know how much your bathroom glass mirror weighs so that you can select an appropriate hanger. Most mirrors come with their weight listed on the packaging or in their product description online. It is important to accurately measure and weigh your glass before purchasing any hardware.
Consider what type of wall surface you will be hanging your bathroom glass on. If it's a drywall surface, then using anchors or toggle bolts may be necessary for added support. On a tile surface, special drill bits and screws are required for installation.
Steps For Installing Mounting Brackets Or Cleats
Installing mounting brackets or cleats is an essential process when it comes to hanging a bathroom glass. It ensures that your glass remains secure and doesn't fall off, causing any damage or injury. The process of installing mounting brackets or cleats can be quite simple if you follow the right steps carefully.
To begin with, You need to measure the length of the glass And mark two spots on either side where you want to install the brackets. Next, Brill holes into these spots using A drill bit that matches your screw size. After drilling, insert wall anchors into the holes and screw in your brackets with A power drill until they are tightly secured. Once your brackets are installed, It's time to attach them to the glass. Apply glue onto one side of each bracket's surface before placing them on either end of your glass panel. Hold them together for at least five minutes so that they can bond properly.
How To Carefully Lift And Position The Mirror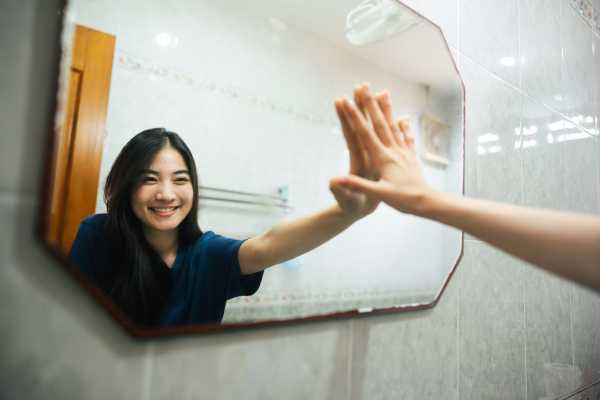 Lifting and positioning a glass requires care to prevent damage or injury. Here's a step-by-step guide. First, assess the weight and size of the glass. If it's heavy or large, ask for assistance. Wear protective gloves to improve grip and protect against sharp edges. Approach the glass from the sides, firmly gripping both edges, or use clips for added stability. Lift with your legs, keeping your back straight, and use slow, controlled movements. If positioning on a wall, mark the desired location, then use a stud finder to locate wall studs for secure mounting. Finally, use a level to ensure the glass is straight before securing it.
Securing The Mirror To The Mounting Hardware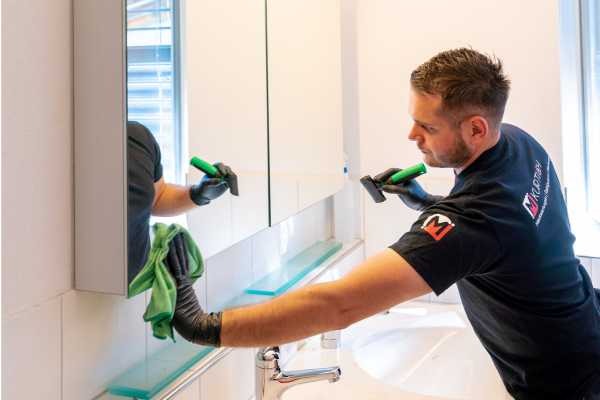 You will need to carefully measure where you want your glass to hang and mark those spots on the wall. Then, drill holes into those marks and attach anchors to them. These anchors will give your mounting hardware extra support and ensure that your glass stays securely fastened to the wall.
Once you have attached your mounting hardware to the Wall with screws, It's time to hang up your glass. Start by holding It up against the mounting hardware so that its brackets line up with those on the wall. Gently slide it down until It clicks into place.
The Final Thought
Hanging A bathroom mirror is an easy And simple task that can be accomplished with just A few tools And some patience. By following the steps outlined above, you can ensure that your glass is hung securely and straight. Remember to choose the right type of hardware for your wall type, measure twice before drilling, And use A level to ensure your glass is straight. With these tips in mind, you can transform your bathroom without hiring A professional. So what are you waiting for? Grab your tools and get started on hanging that bathroom glass today!