Rubber floor mats are A practical and durable addition to any home or vehicle, Protecting floors from dirt, Spills, And wear. However, Over time they can lose their shine And start to look dull and unappealing. Fortunately, there are simple yet effective ways to restore the luster of rubber floor mats And make them shine like new again. Whether you have mats in your car or at home, this article will guide you through A range of techniques that will leave your rubber mats gleaming with renewed brilliance. From homemade cleaning solutions to commercial products specifically designed for this purpose. Get ready to discover the secrets behind making your rubber floor mats shine like never before!
How to Make Rubber Floor Mats Gleam: A Comprehensive Guide to Restoring Shine and Luster:
Benefits Of Shiny Rubber Floor Mats
Shiny rubber floor mats give A place A more attractive look while also providing A number of benefits. Their well-groomed appearance conveys A dedication to cleanliness, creating A welcoming atmosphere. On rubber floor mats, A clean, Shiny surface guarantees fewer dirt traps, which can result in A decrease in bacteria And allergies. The reflective shine also makes it easier to spot spills as well as additional debris, facilitating quicker response and lowering the risk of slips. Your rubber floor Mats will look more attractive and will be healthier if you take the moment to make them shine.
Remove Loose Dirt And Debris
Loose dirt and debris can scratch And dull the surface of rubber floor mats, Making them look worn and unattractive. It's crucial to first remove any loose dirt, Aand, or pebbles that might have been trapped in the mat's crevices. A soft-bristle broom or handheld brush can be used to sweep away these particles gently. This step is essential in the cleaning process because it prevents abrasion that could damage the mat's surface. Cleaning the debris is not just about appearance; It also ensures that the mat remains effective in trapping further dirt and debris, Maintaining its functional purpose.
Vacuum Or Shake The Mat
Vacuuming or shaking the mat is an essential part of the cleaning process that goes hand in hand with removing loose dirt. Using a vacuum cleaner with A brush attachment can help get into the grooves and remove fine particles that A broom might miss. Ensure to vacuum both sides of the mat for thorough cleaning. If A vacuum isn't available, taking the mat outside and giving It A good shake can also be effective. Shaking the mat helps dislodge trapped particles, And It's A quick method to remove loose dirt. This step not only helps in making the rubber floor mats shiny but also extends their lifespan by keeping them in good condition.
Prepare A Cleaning Solution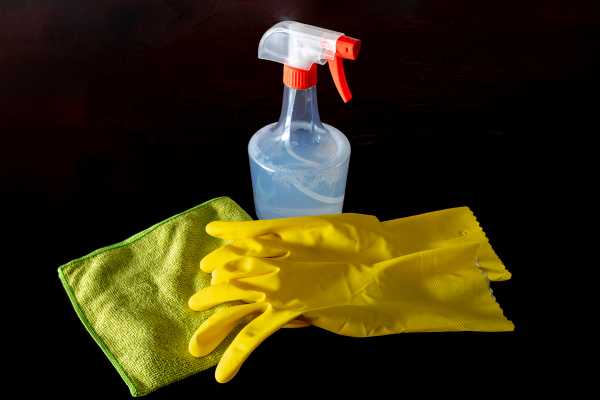 Preparing A proper cleaning solution is crucial for making rubber floor mats shine. Mix A mild detergent with warm water in a bucket; The ratio can be A few tablespoons of detergent per gallon of water. For stubborn stains, adding A small amount of white vinegar can enhance the cleaning power. It's important to avoid harsh chemicals that could damage the rubber. The right solution not only cleans but also maintains the integrity and appearance of the mats. Ensuring A proper balance in the cleaning solution is key to achieving A fresh, shiny finish without compromising the material's quality or longevity.
Scrub The Mat With A Soft Brush Or Mop
Scrubbing is the heart of the cleaning process. Use a soft brush or mop to scrub the mat gently, Paying attention to areas that are particularly dirty or stained. The bristles of the brush or the strands of the mop should be soft enough to clean without scratching the rubber surface. Scrubbing in A circular motion often works best, ensuring that the cleaning solution penetrates into all the crevices. The combination of the soft brush or mop with the right cleaning solution helps remove grime, restoring the mat's shine. Remember, being gentle and patient during this stage will achieve the best results, bringing back the mat's original luster without causing damage.
Rinse Thoroughly With Water
After scrubbing, It's essential to rinse the rubber mat thoroughly with clean water. This step removes the soap residue and any remaining dirt, Revealing the mat's shiny surface. Rinsing can be done with A hose or under A tap, ensuring that the water reaches all parts of the mat. It's important to rinse several times if needed, as any leftover soap can leave A dull film on the rubber, Defeating the purpose of cleaning. Shaking off excess water and allowing the mat to air dry. drying it with A clean, soft towel, completes the process. Proper rinsing and drying are vital final touches in making rubber floor mats shine, Reflecting a clean and well-maintained appearance.
Dry The Mat Properly
Drying the mat properly is A critical step in ensuring that the shine lasts. After rinsing, remove excess water with A squeegee or by shaking the mat. Then, let it air dry by hanging it up or laying it flat in A well-ventilated area. For quicker results, You can use a soft, absorbent towel to pat it dry. Avoid leaving it in direct sunlight, as this can cause fading. Proper drying prevents water spots and brings out the mat's shine, Offering A clean and polished appearance. This step also ensures that the mat is free of moisture, which can harbor bacteria, thus promoting a healthy environment.
How Often Should I Polish My Rubber Floor Mats?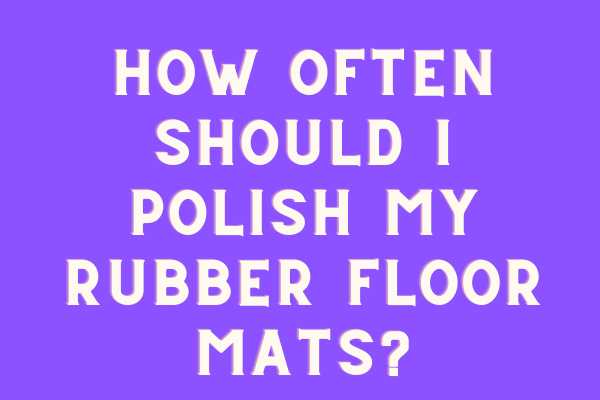 The frequency of polishing your rubber floor mats depends on the usage And environment. High-traffic areas may require weekly cleaning And monthly polishing, Whereas less frequently used spaces may only need monthly cleaning And seasonal polishing. Monitoring the appearance of the mats and addressing spots and dirt as they appear can help determine the right schedule for you. Consistent maintenance, Rather than waiting for noticeable dullness, will keep the mats looking their best and extend their lifespan. A routine cleaning And polishing schedule contributes to an overall neat And pleasant atmosphere, reflecting attention to detail and care.
How Do I Keep The Shine Lasting Longer?
Keeping the shine lasting longer on rubber floor mats requires consistent care And attention. Use proper cleaning agents that are gentle on rubber And avoid harsh chemicals. Placemats in locations where they can effectively trap dirt without being overly exposed to elements that may cause them to degrade. Regularly shake or vacuum the mats to prevent dirt buildup. Protecting the mats from direct sunlight and heavy wear can also help maintain their shine. The key is A balanced routine that cleans without causing wear, Combined with mindful placement And handling, ensuring that the clean rubber floor mats continue to look their best for A longer time.
The Final Thought
Making rubber floor mats shine is more than an aesthetic endeavor; it's about preserving functionality, promoting cleanliness, and enhancing the ambiance of a space. By following these straightforward steps – preparing a suitable cleaning solution, scrubbing with care, rinsing thoroughly, drying properly, and maintaining a consistent polishing schedule – you can keep your rubber floor mats looking new and shiny. Regular care not only elevates the appearance but also speaks volumes about your commitment to a well-maintained environment. Embrace these practices, and let your rubber floor mats reflect the shine of your space.