In the realm of interior design, The bathroom often serves as an oasis Of calm and relaxation amidst the chaos Of our daily lives. However, Achieving this sanctuary-like ambiance requires attention to every detail, including the choice Of window treatments. In smaller bathrooms, where space is at a premium and natural light is treasured, choosing the right window curtain can significantly impact the overall feel and functionality of the space. Not only do they provide the desired privacy, but the right curtain can also enhance the decor, introduce patterns and colors, and regulate the amount of light that filters through. As we delve into the world Of small bathroom window curtains ideas, Let's explore some innovative And stylish solutions that harmonize aesthetics with practicality.
The Importance Of Bathroom Window Curtains
Bathroom window curtains are more than mere decorative elements. They play a pivotal role in blending functionality with aesthetics in one Of the most intimate spaces of A home. Acting as A shield, they ensure privacy, a quintessential need in a bathroom setting. At the same time, they allow homeowners to regulate the inflow of natural light, setting the ambiance and mood of the space.
Furthermore, Curtains can aid in maintaining indoor temperatures, making the bathroom comfortable across different seasons. Beyond practicality, They offer an avenue to express personal style, injecting color, texture, And pattern into the décor. Thus, The Importance Of bathroom window curtains lies in their ability to offer A unique blend of utility and beauty, making them indispensable in A well-designed bathroom.
Factors To Consider Before Buying
When shopping for bathroom window curtains. It's essential to keep several factors in mind to ensure you select the perfect fit for your space and needs:
Material: Opt for moisture-resistant and mildew-resistant fabrics due to the humid nature of bathrooms. Consider materials like polyester or vinyl that are easy to clean and maintain.
Privacy: Ensure the curtain provides adequate privacy, especially if the bathroom window is close to a neighbor or overlooks a busy area.
Light Control: Depending on your preference for natural light, choose curtains that can either filter, diffuse, or block out sunlight completely.
Size & Fit: Measure the window accurately to get the right curtain size. Decide between options like café curtains, full-length drapes, or valances.
Maintenance: Opt for curtains that are machine washable or easy to clean, considering the bathroom's damp environment can lead to mold and mildew.
Design & Style: Choose colors, patterns, and styles that complement your bathroom's overall decor and aesthetic.
Durability: Due to the damp and often fluctuating temperatures in the bathroom, it's crucial to invest in curtains that are durable and will withstand these conditions.
Hardware: Ensure the curtain rods and other hardware are resistant to rust and are suitable for damp environments.
Ventilation: Make sure the curtain design doesn't obstruct ventilation, especially if the window is frequently used for airing out the bathroom.
Budget: Set a budget beforehand and look for curtains that offer the best value within that range without compromising on quality.
What's The Trend For Bathroom Curtains?
As of my last update in August 2023, bathroom curtains were seeing a shift toward a fusion of minimalism and personal expression. The trend leaned heavily on neutral And earthy tones, With subtle patterns and textures being favored over bold prints. Natural materials, or those that mimicked the look and feel of nature, such as linen-look fabrics, were in vogue, embodying a sense of tranquility and organic charm.
Furthermore, There was a growing appreciation for sustainable And eco-friendly materials, reflecting A broader shift in consumer consciousness. Layering also became popular, with sheer curtains paired with heavier drapes to offer adjustable light control and privacy.
As with all trends, it's essential to remember that personal preference and the overall aesthetic of your space should guide your choices more than the prevailing fashion. Always consider the latest trends as inspirations rather than prescriptive rules.
Best 20 Small Bathroom Window Curtains Ideas
Natural Light With Sheer Curtains
For those who cherish a well-lit space, Sheer curtains offer An excellent solution for small bathroom windows. These curtains gracefully filter in natural light, illuminating the bathroom and creating a fresh, airy ambiance. They ensure privacy while allowing the room to bask in the soft glow Of daylight. For a more personal touch, consider sheer curtains with subtle patterns or textures that can dance beautifully with the light, adding an element of elegance without overwhelming the small space.
Matching Bathroom Set
Cohesiveness in design can make a small space appear more refined and put together. Consider matching your bathroom window curtain with other elements in the bathroom, Such as bath mats, towels, Or shower curtains. This approach creates A harmonized look, making the room feel intentional and well-curated. Opting for complementary patterns Or shades can provide A sense of visual continuity, Which is particularly effective in making A small space feel expansive and inviting.
Look Coastal With A Bamboo Shade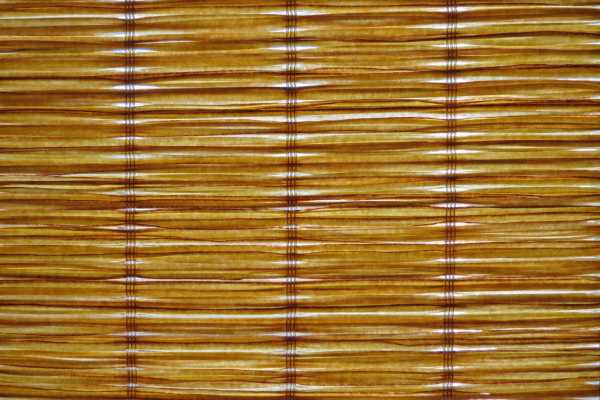 Inject a touch of the beachside into your bathroom with bamboo shades. Perfect for those yearning for a coastal or rustic feel, bamboo shades bring a sense of nature indoors. Besides being visually appealing, They are also practical. Bamboo is naturally resistant to moisture And mold, making it A fitting choice for bathroom settings. These shades can be easily rolled up and down, providing the desired level of privacy and light. Pair them with some sea-themed accessories or natural textures to complete the coastal vibe.
Dark With Light-Blocking Curtains
For those who crave a touch of drama or simply desire maximum privacy, light-blocking curtains are an ideal choice for small bathroom windows. These curtains not only ensure complete seclusion but also provide A controlled environment for those indulgent candle-lit baths Or spa-like retreats at home. Available in A spectrum of rich colors And luxurious materials, They can be the statement piece in A bathroom, offering both form And function. It's essential, however, to ensure adequate ventilation, especially when using these curtains, to prevent excess moisture build-up.
The Best Of Both Worlds With Blinds And Curtains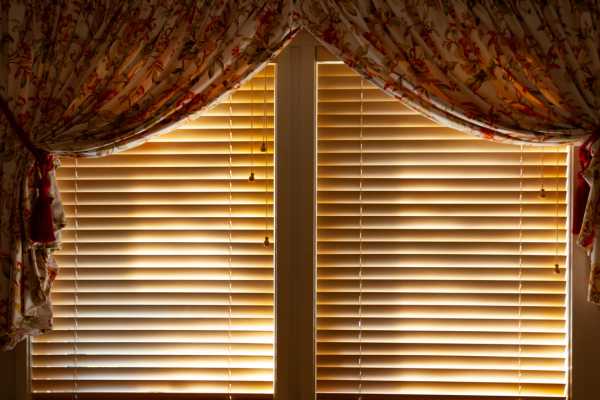 Combine the sleekness Of blinds with the elegance Of curtains for A versatile window treatment. This dual setup allows for adjustable privacy levels And light control. During the day, blinds can be tilted to let in just the right amount of light while maintaining privacy, and the curtains can be drawn in the evenings or whenever added privacy is needed. The combination also adds A layer of texture And depth to the window, making it A focal point Of the bathroom.
Caffe Curtains
Perfect for a vintage or chic aesthetic, cafe curtains cover only the bottom half of a window, offering privacy while still letting in ample light from the top. These are especially suitable for bathrooms that have windows facing streets or neighbors, where privacy is paramount, but natural light is still desired. With a myriad Of styles, from classic to contemporary, cafe curtains can be tailored to match any bathroom decor, adding a touch Of elegance And charm to the space.
Some Mood Lights With A Sheer Patterned Curtain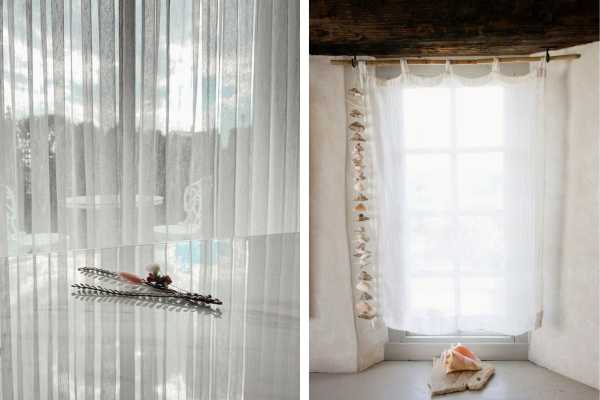 To create a bathroom space that evokes a sense of tranquility and relaxation, consider pairing mood lights with sheer patterned curtains. As the soft ambient lights from sconces or LED strips interact with the curtain's patterns, they cast gentle, dappled shadows throughout the room. This can simulate the calming effect of light filtering through tree leaves, making your bathroom feel like a serene retreat. The sheerness ensures enough privacy while still permitting a gentle flow of natural light during the day.
Frosted Vinyl Curtains
Merging practicality with style, Frosted vinyl curtains offer An innovative solution for bathrooms. Their translucency ensures privacy without compromising the room's brightness. Being water-resistant and easy to clean, They are particularly suited for the damp environment of bathrooms. These curtains often come in minimalist designs Or with delicate patterns, providing A modern and sleek appearance, And are an excellent choice for contemporary spaces.
Patterned Roman Shades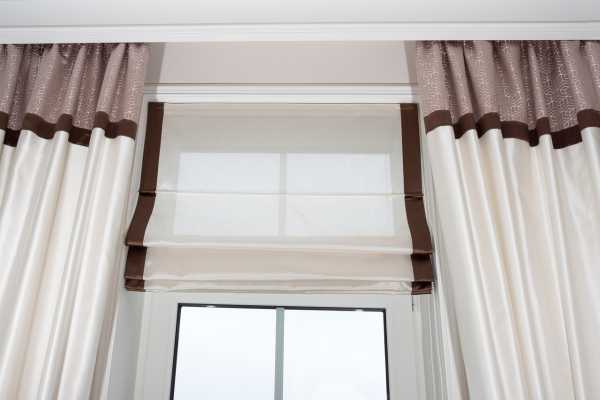 For a touch of classic elegance paired with functionality, patterned Roman shades are the way to go. These shades can be fully retracted, allowing for an unobstructed view and maximum light, or they can be lowered for desired privacy. Their patterned designs, ranging from subtle to bold, can serve as An artistic centerpiece for the bathroom. Whether you're aiming for a traditional, modern, or eclectic look, the versatility of Roman shades can effortlessly cater to your aesthetic needs while offering the utility of adjustable light and privacy control.
Add Bright And Sweet With A Balloon Drape
Balloon drapes exude an air of softness and whimsy. These drapes puff out, creating A balloon-like effect, Which can introduce a playful and romantic touch to your bathroom. They work exceptionally well in cottage or vintage-inspired decors, providing a sweet, charming aesthetic. When selected in bright colors or delicate patterns, they can instantly lift the mood of the space, making it feel cozier and more inviting.
Mini Blinds
Sleek, modern, and highly functional, mini blinds are a timeless choice for bathroom windows. They offer excellent control over light And privacy, Allowing for incremental adjustments. Made typically from aluminum or vinyl, these blinds are resistant to moisture and easy to clean, ensuring durability in a humid bathroom environment. Their streamlined appearance makes them suitable for both contemporary And traditional bathrooms, offering A neat and unobtrusive window treatment solution.
Some Stunning Plaid Curtains
Plaid is a pattern that never goes out of style, And when used in bathroom curtains, It can introduce A touch of rustic charm or sophisticated elegance, depending on the color and scale Of the pattern. Whether you're going for a cabin-like feel with large, bold plaids or a more refined look with subtle, muted checks, plaid curtains can infuse personality and warmth into the space.
A Satin Ruffle Waterfall Valance
A satin ruffle waterfall valance is the epitome of luxury and sophistication. This opulent window treatment, with its cascading ruffles and lustrous satin finish, can instantly elevate the look of a bathroom. Perfect for those aiming to create A lavish and regal ambiance, This valance pairs beautifully with ornate mirrors, marble countertops, And other luxurious fixtures. While it offers limited privacy on its own, it can be paired with blinds or sheer curtains to achieve both style and functionality.
A Scarf Curtain
The scarf curtain, an elegant piece of draped fabric, effortlessly brings a touch of sophistication to any bathroom setting. Flowing gracefully across the top of the window and often hanging down on either side, its fluidity introduces a sense of movement and softness. Typically made of sheer or lightweight materials, scarf curtains are versatile in design; they can be draped symmetrically or asymmetrically depending on personal preference. While not primarily designed for privacy, they can be paired with blinds or other curtains to create a layered, multi-dimensional look.
The Valance Curtain
Valance curtains, designed to cover the uppermost part of the window, Are an excellent choice for adding decorative flair without overwhelming the space. They effectively conceal curtain rods or other hardware, giving A polished finish to the window treatment. Whether you opt for A straight, box-pleated, Or swag style, valances introduce A dash Of elegance and can easily be matched with the overall decor Of the bathroom. When paired with other curtains or blinds, they offer a harmonized and well-structured appearance.
Some Stunning Plaid Curtains
A repeat from earlier, but worth emphasizing again. Plaid curtains are a timeless addition to any bathroom, exuding warmth and character. Their versatile pattern, whether bold or understated, can be adapted to various decor styles — from a rustic cabin aesthetic to a more modern or traditional bathroom setting. Plaids are especially effective in introducing a homely, cozy atmosphere. For those seeking a dash of Scottish or country charm, plaid curtains are an impeccable choice. Combine with complementary accessories to tie the entire look together.
A Dazzling Sheer Beaded Valance
A sheer beaded valance brings an element of sparkle and glamour to the bathroom. The delicate beads capture And refract light, creating A shimmering effect reminiscent Of morning dew Or cascading water. Perfect for those who love a hint Of opulence. This valance not only serves as A statement piece but also softly diffuses incoming light, creating a mesmerizing ambiance. Whether used alone for A minimalistic look Or paired with other curtains for A layered effect. It's bound to enchant and impress.
Classic Wood Blinds
Wood blinds introduce warmth and organic charm into the bathroom decor. Their natural texture and grains offer An authentic and earthy vibe, making the space feel grounded And serene. Highly functional, they allow for precise control over light and privacy. While real wood blinds are stunning, it's essential to ensure they are treated to withstand the moisture in bathrooms. Or consider faux wood blinds that emulate the look of real wood without the susceptibility to humidity.
Half Moon Designed Windows
Half moon or arched windows add an architectural charm to bathrooms, infusing the space with an old-world elegance or modern sophistication, depending on the decor. While these windows Are often left uncovered to showcase their unique shape, They can also be adorned with custom-fit curtains, shades. Or even stained glass to enhance their beauty. Such treatments not only emphasize the window's distinct shape but also offer an additional layer Of privacy and light control.
This Botanic Patterned Sound-Proofing Curtain
For those situated in bustling neighborhoods or just seeking an extra layer of tranquility in their sanctuary, botanic patterned sound-proofing curtains offer both aesthetic appeal and functional benefits. The botanic patterns introduce A touch Of nature, creating A serene backdrop. While the sound-proofing features help insulate the bathroom from external noises. These curtains are usually made of thicker materials. Aiding in temperature regulation alongside noise reduction, making your bathroom A truly peaceful retreat.
How Often Should I Clean My Bathroom Curtains?
Bathroom curtains are exposed to a humid and often damp environment, making them susceptible to mold, mildew, and dust accumulation. To ensure they remain fresh and free from allergens, It's advisable to clean them at least once every two months. However, if your bathroom sees heavy usage or lacks proper ventilation, consider increasing the frequency to once a month. Regular cleaning not only maintains the aesthetic appeal of your curtains but also contributes to a healthier bathroom environment. Always check the curtain's care label for specific cleaning instructions, as some materials may have special requirements.
Can I Diy My Bathroom Window Curtain?
Absolutely! DIY-ing your bathroom window curtain can be a fulfilling project that allows you to tailor the window treatment to your exact taste and the specific needs of your space. With a plethora of online tutorials and craft stores offering a wide variety of materials. It's more accessible than ever to create custom curtains. Whether you're repurposing old fabrics, Adding personal touches with embellishments, Or sewing a curtain from scratch. The DIY route enables you to inject personality And creativity into your bathroom. Moreover, It can be cost-effective and ensures that you get A unique piece perfectly suited to your decor And preferences. Just ensure you choose materials that can withstand the bathroom's humidity and follow a design that provides the desired level of privacy and light control.
The Final Thoughts
Selecting the right window treatment for A small bathroom can make A significant difference in both functionality And aesthetics. Whether you lean towards sheer curtains for a touch of natural light, bamboo shades for a coastal vibe, or a DIY piece that showcases your unique style. The key is to find a solution that balances privacy, light control, and design appeal. With an array of options available, from classic wood blinds to exquisite beaded valances. There's an ideal curtain idea for every bathroom. By considering the specific needs of the space and personal preferences, homeowners can elevate their bathroom's ambiance and ensure a harmonious blend of style and practicality.