Keeping a bathtub spick-and-span is key to having a fresh and germ-free bathroom. Over the days, bathtubs gather all sorts of unwanted stuff: dirt, gunk, leftover soap, and sometimes even yucky mold or mildew. Not only do they look bad, but they're not great for our health either. By giving your tub a regular scrub down, you make sure it's always inviting for a calming bath. Let's dive into a simple step-by-step guide to get that tub of yours shining and feeling brand new!
How Often To Clean A Bathtub?
The frequency of cleaning a bathtub largely depends on its usage. In general, it's A good practice to clean your bathtub at least once a week to prevent the buildup of soap scum, grime, and mold. However, more frequent cleaning may be necessary if the tub sees heavy use, especially in a household with multiple people. Additionally, if you notice any visible dirt or stains, it's best to clean the bathtub promptly to maintain its hygiene and appearance. Regular maintenance can make the task easier and prevent the need for more intensive cleaning in the long run.
Gather Your Cleaning Supplies
What You'll Need:
Rubber Gloves: To protect your hands from chemicals And grime during the cleaning process.
Baking Soda: A versatile cleaning agent that helps remove stains and grime from the bathtub's surface.
White Vinegar: A natural disinfectant and descaling agent that can effectively tackle soap scum and mineral deposits.
Dish Soap: Used to cut through grease and body oils for a thorough clean.
Scrub Brush: Choose a scrub brush with stiff bristles to remove tough stains and buildup effectively.
Old Toothbrush: Handy for reaching into tight corners and crevices that the scrub brush might miss.
Spray Bottle: Use it to mix and evenly apply your cleaning solutions onto the bathtub's surface.
Microfiber Cloths: Ideal for wiping down surfaces and leaving a streak-free, clean finish.
Bathtub Cleaning
Remove Everything From The Bathtub
Begin by clearing the bathtub of all its contents. Remove bath mats, shampoo bottles, Soap dishes, And any other items that may be in or around the bathtub. This step ensures that you have unobstructed access to every nook And cranny of the bathtub.
Clean The Tiles And Walls Around The Bathtub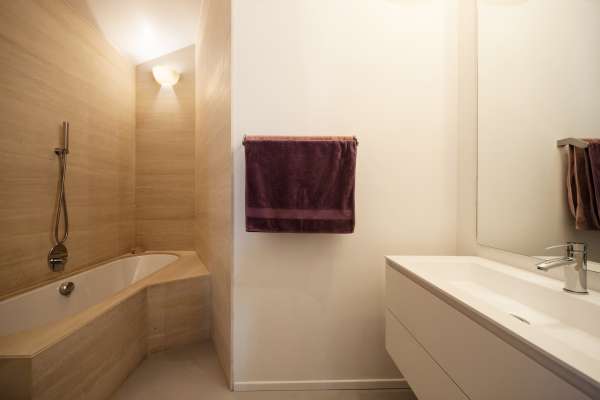 To ensure A comprehensive cleaning, it's essential to address not only the bathtub itself but also the surrounding tiles And walls. Begin by spraying a bathroom cleaner or a mixture of equal parts water and white vinegar onto the tiles and walls. These areas Are prone to accumulating soap scum, mildew, And grime. Using a scrub brush or sponge, gently but thoroughly scrub these surfaces, paying special attention to corners and grout lines. This step helps maintain the overall cleanliness And appearance of your bathroom.
Clear Out The Bathtub Drain
A clear bathtub drain is essential for proper drainage and to prevent clogs. Use a drain snake or your fingers (while wearing gloves) to remove any hair or debris that may have accumulated in the drain. This simple maintenance task Can save you from future plumbing issues.
Apply And Tub Cleaner To The Interior Of The Bathtub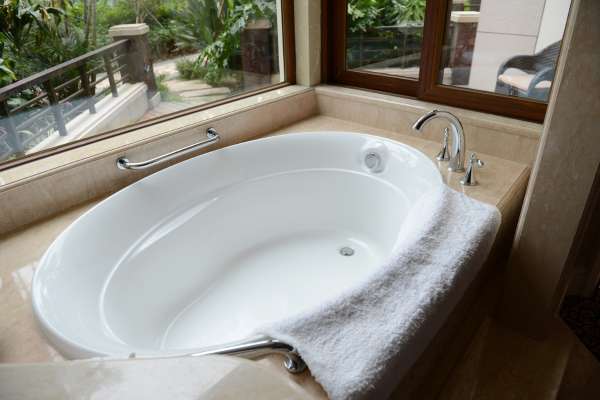 Select a bathtub cleaner that is suitable for your bathtub's material (acrylic, enamel, fiberglass, etc.). Follow the manufacturer's instructions for the cleaner you've chosen. Apply the cleaner evenly to the interior surface Of the soaking tub, ensuring that you cover all areas, including the sides and bottom. Allow the cleaner to sit for the recommended duration to loosen soap scum, stains, and dirt.
Apply An Baking Soda
Baking soda is a versatile and effective abrasive cleaner that can tackle stains and grime. Generously sprinkle baking soda over the entire interior surface of the bathtub. You can also create A paste by mixing baking soda with a small amount of water. This step helps in the mechanical removal Of stubborn stains.
Apply An Vinegar
After applying the baking soda, pour white vinegar over it. The vinegar will react with the baking soda, producing a foaming action that aids in breaking down stains and soap scum. Allow this mixture to sit for a few minutes to work its magic on the bathtub's surface.
Get Rid Of Soap Scum
Take an old toothbrush or a scrub brush and start scrubbing the baking soda and vinegar mixture around the bathtub's interior. Pay special attention to areas with visible soap scum, stains, or discoloration. The abrasive nature of the baking soda combined with the vinegar's cleaning properties will help to lift off dirt and grime effectively.
Scrub Away Any Stains
For particularly stubborn stains or discoloration, you may need to apply more pressure and use additional baking soda and vinegar. Repeat this process as necessary until the stains are completely removed and the bathtub regains its original shine.
Rinse Thoroughly
Once you've completed the cleaning process, it's crucial to thoroughly rinse the bathtub. Use a bucket or the showerhead to rinse the bathtub with clean water. Ensure that you remove all traces of the cleaning products and residue, leaving your soaking tub sparkling clean and free of any chemicals.
Wipe Everything Down Again One Last Time
To finish the cleaning process, take a clean, damp cloth or sponge and wipe down not only the interior of the bathtub but also the tiles, walls, and fixtures one last time. This final wipe ensures that no cleaning product residues are left behind, leaving your entire bathroom looking and feeling fresh.
Maintenance Tips
1. Regular Cleaning
Regular cleaning is the key to maintaining a clean and hygienic bathtub and shower. Make it a habit to clean your bathtub and shower area at least once a week or as needed, depending on usage. Follow the steps outlined earlier in this conversation to thoroughly clean your soaking tub. Additionally, wipe down shower walls, fixtures, and glass doors after each use to prevent the buildup of soap scum and water stains.
2. Use A Shower Caddy
Invest in a shower caddy or organizer to keep your shower essentials neatly organized. Hanging a shower caddy over the showerhead or attaching it to the wall can help keep shampoo, conditioner, soap, and other items off the shower floor or edges. This not only reduces clutter but also makes it easier to clean the shower area and prevents the accumulation of soap residue.
3. Keep Drains Clear
Regularly check and clean your bathtub and shower drains to prevent clogs. Hair, soap scum, and debris can accumulate over time and hinder proper drainage. Use a drain strainer or hair catcher to trap hair and other debris before it goes down the drain. Periodically remove and clean the drain stopper or use a drain snake to clear any blockages. This maintenance task helps prevent water from pooling in the tub and ensures efficient drainage.
Additional Tips:
Ventilation: Ensure that your bathroom has proper ventilation, such as an exhaust fan or a window. Adequate ventilation helps reduce humidity, which can contribute to mold and mildew growth.
Mold and Mildew Prevention: Use mold and mildew-resistant caulk and grout in your shower to prevent these unsightly and potentially harmful substances from developing. If you notice any signs of mold or mildew, clean and treat the affected areas promptly.
Dry Surfaces: After each shower or bath, use a squeegee or a towel to dry the shower walls, glass doors, and fixtures. Keeping surfaces dry can help prevent the buildup of water spots and mineral deposits.
Replace Old Fixtures: If your showerhead, faucet, or other fixtures are outdated or leaking, consider replacing them. Newer, water-efficient fixtures can improve water pressure and reduce the risk of leaks.
Address Plumbing Issues: If you notice slow drainage or water leaks, address these plumbing issues promptly to prevent water damage and more significant repairs in the future.
Can I Use Bleach To Clean My Bathtub?
Yes, you can use bleach to clean your bathtubs, but it should be used with caution. Dilute bleach in water according to the manufacturer's instructions, wear protective gloves, and ensure proper ventilation. Apply the bleach solution to the surface, scrub gently, and rinse thoroughly to disinfect and remove stains. Avoid mixing bleach with other cleaning products and test it on a small, inconspicuous area first to check for any adverse reactions to your bathtub's material. Additionally, using bleach sparingly and as needed is recommended, as excessive use may damage certain soaking tub finishes over time.
Is It Safe To Mix Different Cleaning Products?
Mixing different cleaning products can be dangerous and should generally be avoided. It can lead to the release of toxic fumes, chemical reactions, and other harmful consequences. Some chemicals in cleaning products can react with each other, producing gases or substances that are hazardous to your health. For example, mixing bleach with ammonia or acidic cleaners can release chlorine gas, which is toxic when inhaled. Always read and follow the manufacturer's instructions on cleaning product labels, and never mix different products unless the label explicitly states that it is safe to do so. If you have questions about specific combinations or are unsure about the safety of mixing cleaning products, it's best to consult with a poison control center or seek guidance from a professional cleaner.
The Final Thought
Keeping your bathtub clean is essential for maintaining a hygienic and comfortable bathroom environment. By following these simple steps, you can easily remove dirt, grime, and soap scum from your tub. Remember to regularly scrub the surface, use appropriate cleaning products, and rinse thoroughly to prevent any residue buildup. Additionally, implementing preventive measures such as using a shower curtain or mat can help minimize future cleaning efforts. So why wait? Start incorporating these tips into your cleaning routine today and enjoy a sparkling clean bathtub for years to come!