Choosing the right Type windows treatment For your bathroom Can significantly enhance both Its functionality and appearance. From privacy To light control, aesthetics To moisture resistance, the selection must be carefully considered. Below, we explore various window treatments suitable For bathrooms, Offering tips and insights To help You make the best choice.
What Type of Window Treatment Should I Put In the Bathroom?
Choosing the right window treatment for the bathroom Is essential for maintaining privacy And controlling natural light. A popular choice for bathrooms Is moisture-resistant blinds or shades such As faux wood blinds, vinyl roller shades, or aluminum mini blinds. These materials resist humidity And are easy to clean, ensuring that your window treatments remain beautiful And functional. The addition of curtains with fabric that deters mold And mildew can also add a touch of elegance without sacrificing practicality.
Why Is Choosing The Right Window Treatment For The Bathroom Important?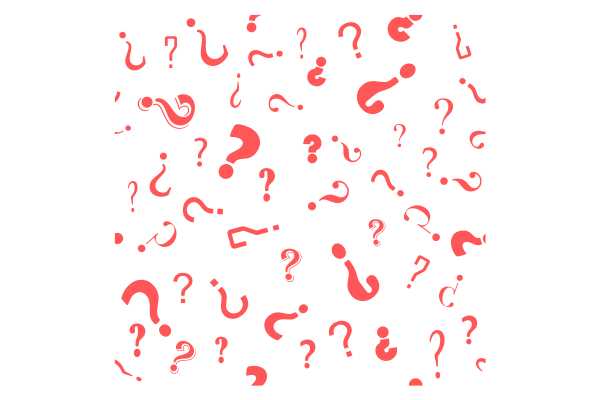 Any home's bathroom Is a special place where The ability to control natural light And maintain privacy are essential. The ideal window treatment not only fits the design but also fulfills functional requirements. This article explains how important it Is To choose the right window treatment for your bathroom.
What Colors And Styles Work Well In A Bathroom?
The colors and styles you choose should reflect the overall theme and mood of your bathroom. Soft, neutral colors like white, beige, Or pastel shades can create a calm and serene atmosphere. Styles that complement the bathroom's fixtures and fittings, such As modern roller shades or traditional Roman blinds, Can enhance the aesthetics. The key Is to strike a balance between form and function.
Importance Of Window Treatments In Bathrooms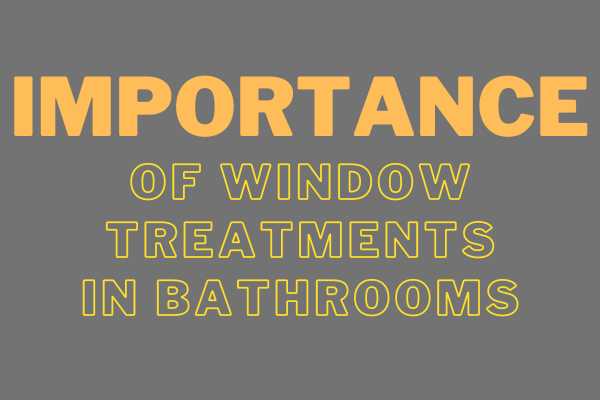 Privacy: They provide the necessary privacy in a space where it is most required.
Light Control: They allow you to control the amount of natural light, ensuring the room's comfort.
Humidity Resistance: The right materials can resist moisture, preventing mold and mildew.
Aesthetic Appeal: Well-chosen window treatments enhance the visual appeal of the bathroom.
Factors To Consider Before Choosing A Window Treatment
Material: Ensure that the material is resistant to humidity, as bathrooms are prone to moisture.
Maintenance: Choose something easy to clean and maintain.
Design Compatibility: The style and color should match or complement the rest of the bathroom's decor.
Budget: Consider your budget as window treatments can range from affordable to high-end.
Functionality: Think about the specific needs like privacy, light control, or a combination of both.
15 Best Materials For Bathroom Window Treatments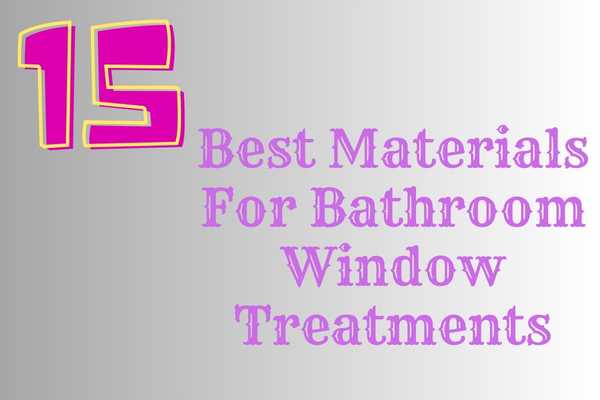 1. Frosted Glass
Frosted glass offers both privacy and natural light. It's An ideal choice for bathrooms, As it's moisture-resistant and provides An elegant appearance. The frosting adds A touch of luxury, giving A spa-like feel To the room.
2. Plantation Shutters
Plantation shutters offer A timeless, adaptable appearance. They provide privacy and light control with movable slats, making them A practical and appealing alternative For bathrooms. They are dependable And versatile In terms of design.
3. Caffe Curtains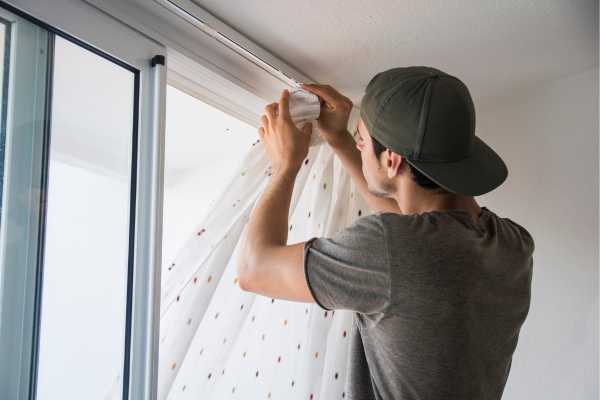 Cafe curtains add charm And casual elegance. Covering only the lower part of the window, they allow light to filter through while maintaining privacy. Choosing moisture-resistant fabric ensures they last In a room setting.
4. Moisture-Resistant Blinds
Made from materials like PVC or aluminum, moisture-resistant blinds offer precise control over light and privacy. They are easy to clean and come In various styles, making them a practical choice For rooms.
5. Roman Shades
Roman shades have A delicate, refined appearance that Is ideal for a bathroom. They come In fabrics that are resistant to moisture and Can be both aesthetically pleasing and useful. Roman shades are a flexible option that go Well with many room styles because Of their sleek appearance and adjustable lighting.
6. Bamboo or Wood Shades
A natural, organic vibe is added to your bathroom by using bamboo or wood shades. They are warm and textured, and they come In a variety of finishes to Go with your decor. It's critical to select bamboo or treated wood that can withstand moisture and is appropriate for room use.
7. Vinyl Roller Shades
For those seeking simplicity and functionality, vinyl roller blinds are a great option. They are ideal For bathroom circumstances because they are moisture-resistant and simple to clean. Vinyl roller blinds are a well-liked option because there are many designs And colors to choose from and You can find them to match any interior design style.
8. Top-Down/Bottom-Up Shades
Top-down/bottom-up blinds offer a special way to manage light and privacy. They may be adjusted from both the top and bottom, allowing for privacy when necessary while yet letting in natural light. These blinds are appropriate for bathrooms since they have a modern appearance and are made of materials that withstand moisture.
9. Sheer Curtains
Sheer curtains add a delicate And airy touch to Your bathroom. While they may not offer complete privacy, they do provide a soft diffusion of light that Can create a serene ambiance. Pairing them with another window treatment like blinds Can create a versatile and elegant combination suitable For various bathroom styles.
10. Stained Glass Windows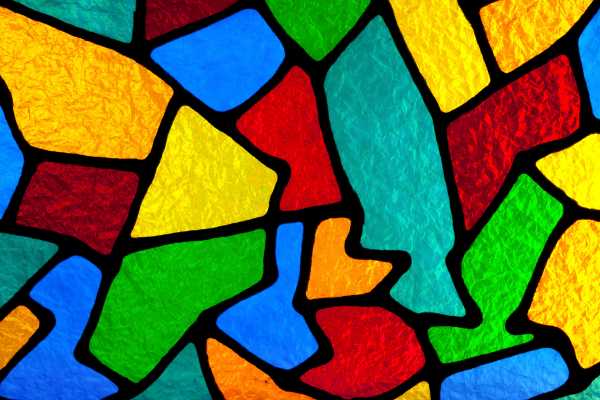 Any bathroom benefits from the distinctive and creative flair of stained glass windows. They don't just provide color and personality; they also offer privacy without obstructing light. Stained glass Is a unique option for individuals searching for something special because It is moisture-resistant and can be tailored to meet various themes.
11. Window Decals
Window decals are An affordable and easily changeable option for bathroom windows translucent. They Can provide a decorative touch and offer varying levels Of privacy depending On the design. From frosted patterns to colorful motifs, window decals Can be adapted to suit any bathroom décor and Can be swapped out as styles change.
12. Cellular Shades
Honeycomb blinds, commonly referred to As cellular shades, offer excellent privacy And insulation. Their distinct design traps air, keeping the bathroom cool In the summer and toasty In the winter. Cellular shades are a practical and stylish alternative For bathrooms that come In a variety of colors and materials, including some that resist dampness.
13. Valances
Valances give your type treatment bathroom windows some ornamental flair and are frequently used In conjunction with other window coverings. They add A layer of texture and color while hiding electronics. Valances come In a variety of fabrics and designs, so You may match them to the decor of your bathroom while also improving the aesthetic appeal.
14. Skylight Shades or Blinds
If your bathroom includes a skylight, You can manage the amount of light and privacy using customized curtains Or shades. These treatments are both functional and fashionable because they were made to meet the particular size of skylights. They aid In temperature control and can be made to match the design of your room.
15. Combination Treatment
The most variety is achieved by combining various window coverings, such As blinds with sheer curtains or valances with shades. Combination treatments offer adjustable lighting, privacy, and a lovely layered appearance. You may design a unique and stylish window treatment for your room by combining different textures, colors, and materials.
Can I Use Curtains In A Small Bathroom?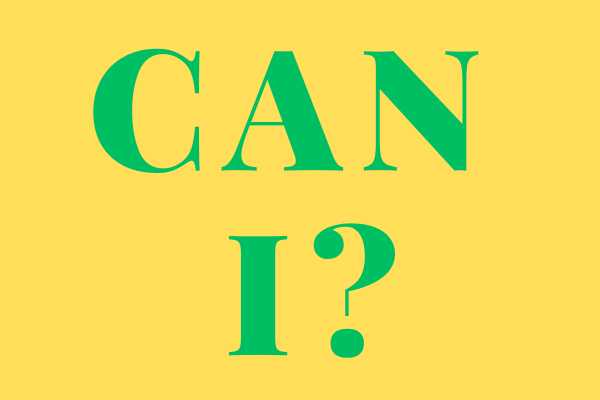 Yes, curtains can be used In small bathrooms. Choose lightweight, moisture-resistant fabrics, and consider minimalistic designs to avoid overwhelming the space. Combining curtains with blinds or shades can provide both style and functionality without making the room feel cramped.
Where Can I Find Suitable Bathroom Window Treatments?
Suitable bathroom window treatments can be found At home improvement stores, specialty window treatment shops, And online retailers. Consulting with a professional window treatment designer may also be beneficial In finding customized solutions that fit your bathroom's specific needs and style.
How Can I Ensure The Longevity Of My Chosen Window Treatment?
Ensuring the longevity Of your chosen window treatment involves selecting materials suited for a humid environment, proper installation, and regular maintenance. Follow the manufacturer's instructions for cleaning And care, and consider professional installation If the treatment requires complex fitting.
The Final Thoughts
The ideal window treatment for your bathroom involves balancing form, function, and utility. Options range from valances To combined treatments, and they can be tailored To fit a variety Of needs and preferences. Exploring these various options and being aware Of your room's unique needs Can help you make a decision that not only improves the room's beauty but also adds to Its comfort and lifespan. There Is a perfect window treatment waiting To turn your bathroom, no matter how big Or tiny, into your own private haven.